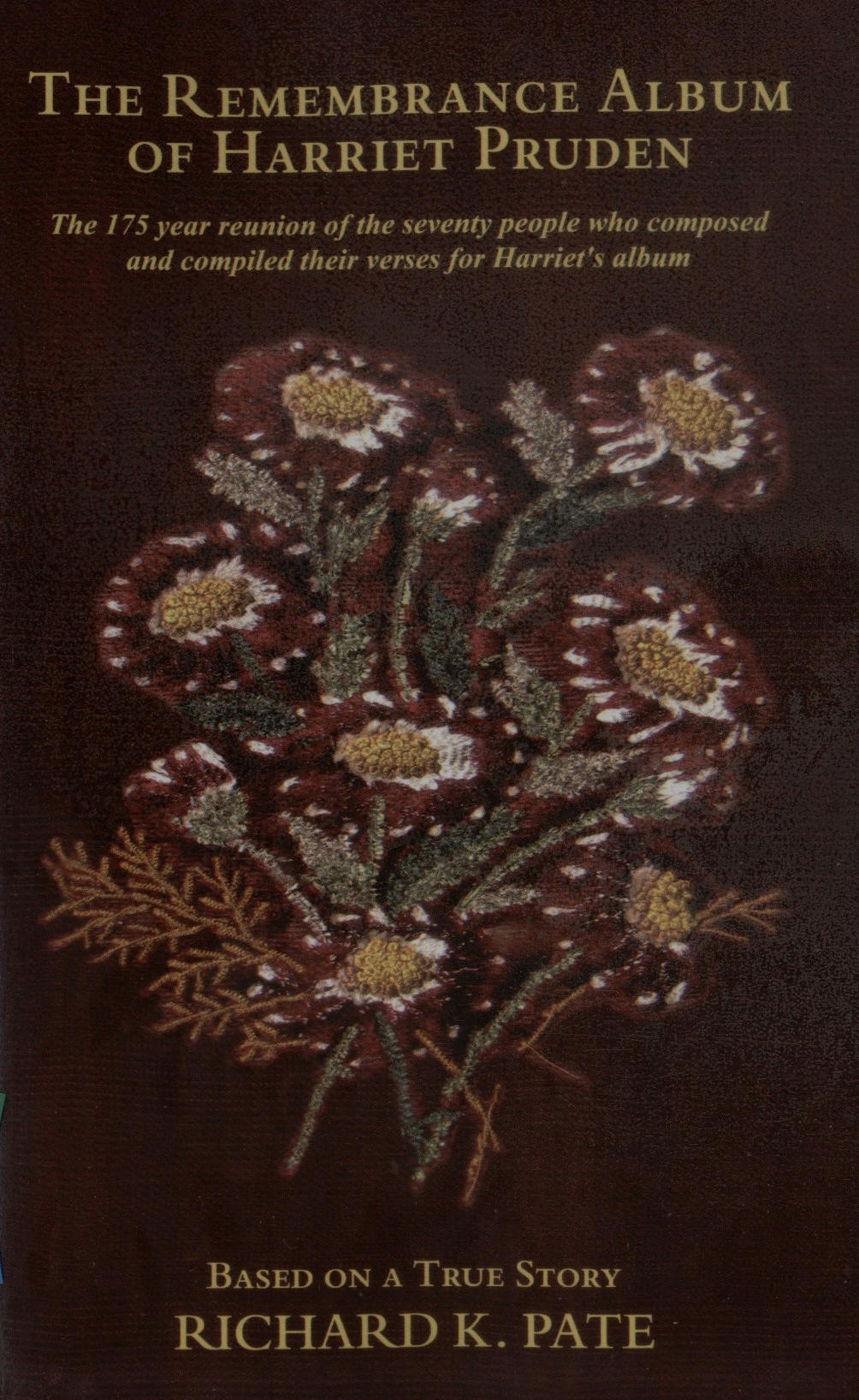 Are you a Descendant?
Check the list below to find out!
With a conservative count of seventy individuals contributing to Harriet's album it seems entirely plausible that there may be hundreds if not thousands of their descendants, alive today.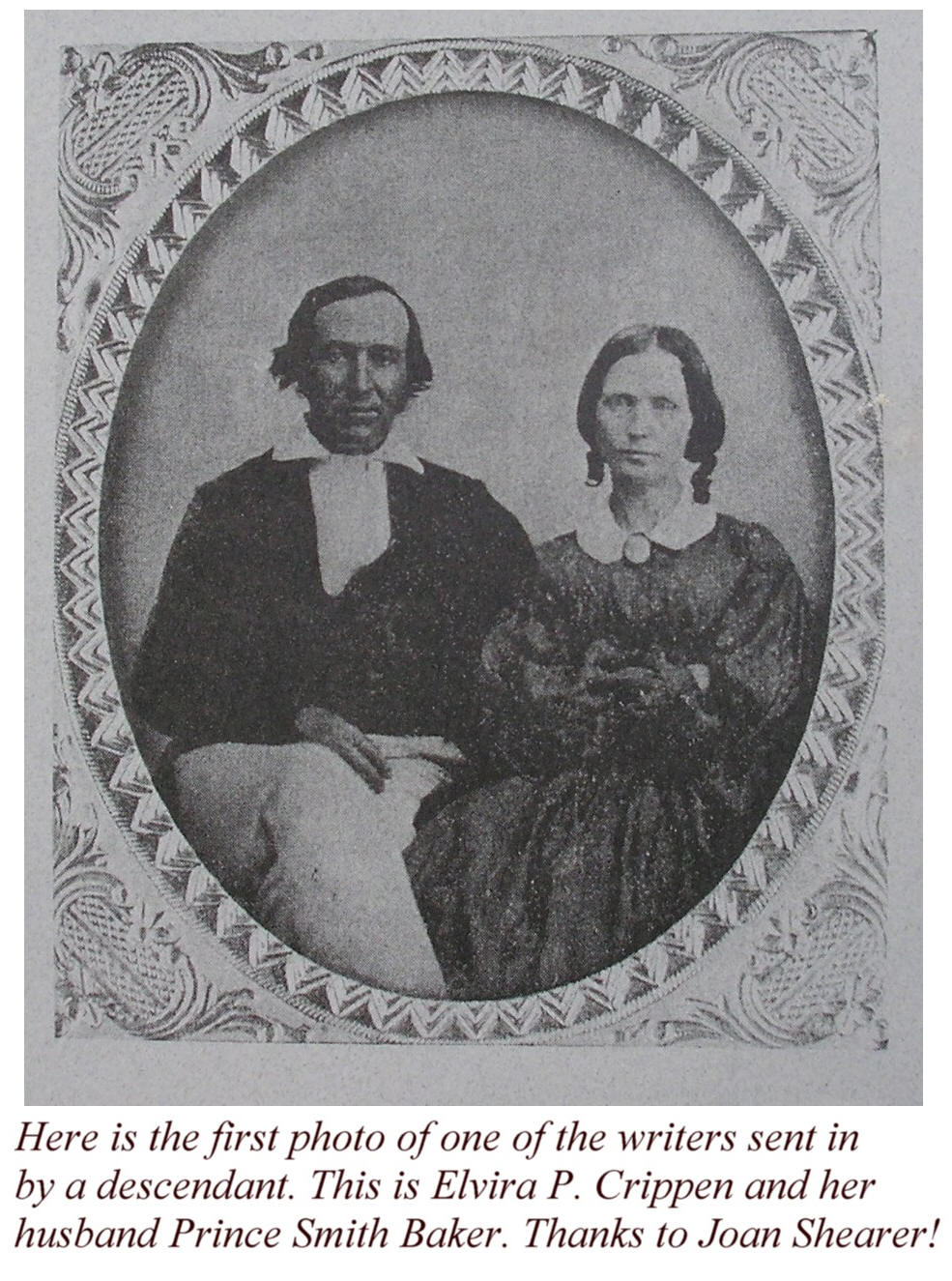 Paul Pruden – descended from Harriet's brother David Mitchell Pruden. Paul writes, "What a great story!"
Gerald Smith- Harriet is Gerald's great-great-great aunt. His family has Rebecca Pruden's "Red Book." Gerald writes, "I am very impressed with all the research and work that you have done. It is outstanding and very creative. The people came alive when I read your thoughts about them...Your work has opened up a new vista for me...(and) gives me a better view of the times."
Joan B. Shearer- Joan is the great-great granddaughter of Elvira P. Crippen . Joan wrote, "I was excited to find this website…thank you for preserving this genealogical gem!" Joan was nice enough to provide our first image of any of the players in Harriet's story, to date, a picture of Elvira and Prince. In the book I state that the Bakers had no offspring. My source was wrong, Joan corrected me, they had seven children! This and other corrections will be featured in the next edition.
The List of Album Contributors
Below is a list of all the names associated directly with Harriet's album. If you find one of your ancestors here please contact the author at rkparc@gmail.com and tell him who you are and from whom you are descended. With your permission, we'll post your name, comments and photos here on the site. No contact information will ever be posted or given out.
| | |
| --- | --- |
| Bently, Jane L | Martin, Phebe |
| Brough, John | Maxon, RA (Anne) |
| Brown, A.G. | McAboy, PL (Paradise Lynn) |
| Brown, Lounne | Medbery, AV |
| Busking, Ann E | Miles, BL |
| Cleveland, Mary | Miles, Lucy td |
| Crippen, Elvira P | Nye, Lucy M |
| Currier, Adeline L | Perkins, Mary |
| Everts, Mary A | Pratt, EP |
| Fuller, Louisa M | Pratt, Maria F |
| Goldsmith | Pruden, Aschah |
| Hildreth, Mary | Pruden, Caroline, daughter Achsa |
| Honre, OJ | Pruden, Mary |
| Knowles, Lucy | Pruden, RC (Rebecca) |
| Larak, AC | Pruden, Samuel |
| Larimer, Brice | Pruden, Silas M |
| Larimer, Lucy | Sanger, LC |
| Light, David | Shipman, BS |
| Light, Eugene | Starr Ann, CC |
| Light, Emanuel | Weethee, JP (Jonathon Perkins) |
| Light, Elizabeth | Wert, James R |
| Light, (Pruden), Harriet | |
| Light, Martha Ann | |
One reason to publish this work was to disseminate the names of all the known contributors to the general public so that any living descendants might be given a chance to identify their great-greats and as a forum to share any additional information on the story. In addition, there may be some chance of someone finding a draft of one of the poems in an old family bible allowing us to possibly identify some of the "anonymous" authors in Harriet's album. In the beginning contributors seemed clearly to work their poems out in advance, transcribing from their own drafts into Harriet's album; perhaps one or more of those drafts still exist. Also, at least one page in the old album seems to have been carefully removed sometime in the past. Perhaps it still exists somewhere? If it does exist it would likely have a page number, written in pencil, in the upper-left corner of the sheet, in a rather crude hand. These page numbers were added by Eugene, apparently after the album's active life was over.